Only Admins and Automation Managers can manage and edit workflows.
Acodis provides three types of user roles:
Admins can manage workflows and users and have full access to the whole platform.
Automation Managers can manage specific workflows to which an admin has given access. Workflow managers can not manage users.
Case Handlers can view workflows, import/export, review documents, and review automated data extraction accuracy before final export.
You can find your user role next to your name on the bottom left of the platform: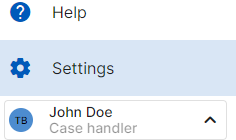 Quick Tip:
Please contact your Admin and show them the steps below if you think you were assigned a user role incorrectly.
To change a colleague's user role:
Choose the Workflow you want to assign by clicking the Workflows tab on the upper left and then selecting the desired Workflow.
Click the Menu button on the top right corner, then click Edit Workflow.
Click the Review step of your selected Workflow.
Add your colleagues' names under the Workflow Access section and assign them to one of the three roles listed at the beginning of this article.
Finally, click the Finish button on the bottom right.